SaaS Refund Policy
While most e-commerce and brick and mortar stores are legally required to have a refund or return policy in place, SaaS apps and other digital products are not.
This is due to the difference in nature of a digital product versus a non-digital product.
For example, downloading a song on iTunes and then trying to return it isn't very realistic, while ordering a pair of shoes online and them not fitting correctly when you receive them is very realistic and likely.
Another difference between SaaS app sales and the sale of other products is that technically, a user of a SaaS app is not purchasing the app, but is instead receiving a license to use the app.
Return and refund policy laws are in place to protect consumers from having to be stuck with products they cannot actually use or that do not meet expectations.
Licenses for SaaS apps are far more standard and universal than a pair of shoes which will fit everyone differently. Each SaaS app license will most likely run the same on each user's device and provide access to the service that the user agreed to be given access in some legal agreement, such as an End-Use License Agreement or a Terms & Conditions agreement.
While refund and return policies are not required by law for SaaS apps, it's common practice for companies developing this kind of business apps to offer some sort of refund to customers under certain circumstances.
The refund may be partial, or a complete refund of any purchase price, and can be triggered by a number of events or causes, such as prorated refunds on subscription plans for partial down-time, credits that can be used for purchases within the app, and a range of other viable options.
Below are some examples of refund policies in place with several popular SaaS apps. Note that these policies can simply be clauses located within other agreements, such as Terms and Conditions agreements or MSA's (stands for Master Service Agreement).
A separate return policy is not required, nor needed. However, you can create one if you'd like to draw more attention to it as a separate agreement.
Envato Market
The Envato Market at Themeforest places a "Refunds" section in its general Terms agreement and makes mention to the nature of digital content not warranting a refund or return, unless required by law.
Themeforest reserves the right to assess refund or credit requests on a per-request basis, which allows it to maintain a lot of discretion. A list of situations when refunds or credits are generally not provided is also included to help users know what warrants a refund.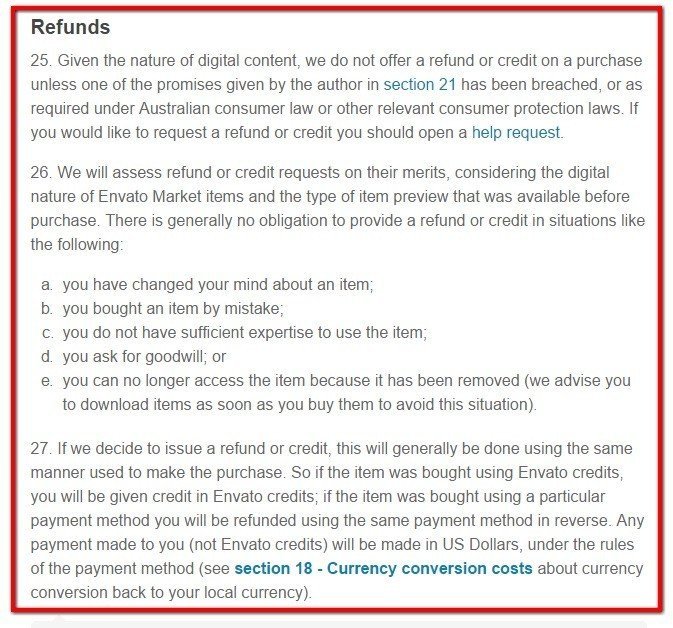 Dropbox
Dropbox has a very simple, straightforward refund policy of no refunds, unless legally required. This clause is part of their Terms of Service agreement.

Salesforce
Salesforce offers refund information that differs depending on which party terminates the agreement.
Salesforce states in their MSA agreement document:
If this Agreement is terminated by You in accordance with Section 12.3 (Termination), We will refund You any prepaid fees covering the remainder of the term of all Order Forms after the effective date of termination. If this Agreement is terminated by Us in accordance with Section 12.3, You will pay any unpaid fees covering the remainder of the term of all Order Forms.
You can see how other sections are referenced and must be followed by a customer to ensure a refund, such as the section on "Termination". If a customer doesn't terminate the agreement in accordance with that section, refunds will not be granted.

Some SaaS apps work on a subscription service where each month is billed separately and a user can usually cancel at any time.
Different companies handle this differently, such as by adding cancellation fees, or doing a prorated refund, or doing no refund at all but allowing the user to keep service active for the remainder of the time paid for and simply not charging the user for the next billing cycle.
These subscription apps differ from non-subscription, one-time-fee apps in that they usually have a more complex refund policy that has to take into consideration prorating days, and partial-month payments.
Some apps offer refunds for any days not used in that month, while others only offer refunds during the first week of the month. Some offer no refunds at all but will just not bill a user again after canceling and after that paid month ends.
The flexibility with SaaS app refunds is endless.
Slack
Slack, for example, does not offer refunds, but if you have a paid subscription and wish to go to a free subscription instead, you can have your remaining account balance prorated and used as credits for future Slack services, or you can choose to be downgraded at the end of that current billing cycle and keep the rest of the cycle as is.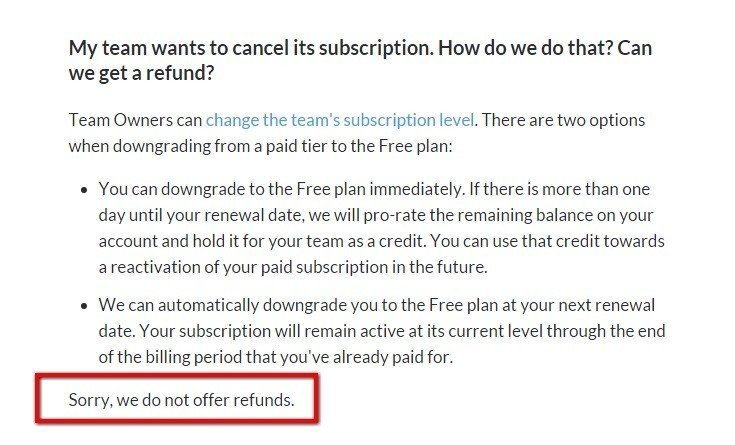 Microsoft Azure
The Subscription Agreement of Microsoft for its Azure service provides that refunds will only be given for subscriptions of more than one month that are canceled within 30 days of the effective date or renewal date of the subscription. Otherwise, there will be no refund.
This works to make it so that if someone orders a 6-month subscription, that person must cancel within the first 30 days to receive a refund for the final 5 months, otherwise all 6 months must be paid for.

What to include in your own Refund Policy
If you're operating a SaaS app, remember that refund policies can be very customized and flexible.
You can offer a full refund, or none at all, and any combination in between. Consider what makes the most sense for your industry and your customers, and tailor your refund policy to be best for you and the users of your SaaS app.
When creating your refund policy, make sure to include the following information:
Let users know exactly how much of a refund they will receive (such as a partial month refund, or 100% of the cost minus 15%, etc.,
Under what circumstances they will receive a refund (such as if you terminate the agreement, or go out of business, etc.)
What conditions they must meet in order to be eligible for the refund (things they must do or must not do, such as inform you in writing within 30 days, or not cancel before the first month of service is over, etc.)
How they can contact you to request a refund (provide an email address or request refund inquiries to be sent in writing, etc.)
You can inform users about your company's policy in sections where users can cancel or downgrade their subscription plan.
For example, Adobe provides a link to the Manage Account section where a user can cancel a subscription.

Themeforest also provides a link and instructions for a user to submit a Help Request to cancel.